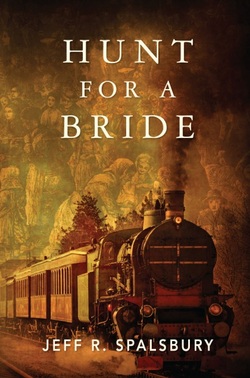 THE STORY ABOUT THE HEROINE AND DEDICATION FOR MY NOVEL
HUNT FOR A BRIDE

A number of people have asked me about the dedication in Hunt for a Bride and the fact that I used a real person's name for the heroine. I have always delighted in putting friends in my novels as secondary characters, always with their permission, of course. But for this book I changed the rules and for a very specific reason. I hope you find the story interesting.

We have to return to my first western novel, Hunt the Hunter, to understand how this all came about. During the writing of this novel, a friend of mine, Jerry Bailey, told me that he had paid a publisher $700 to have his name used in a science fiction novel. I was surprised by that and told Jerry that I would be happy to place him in my story for free, which I did. He was delightfully surprised when he later read his description and found out that I had gone to his wife for a description of what Jerry looked like when he was in his mid-twenties. Since he's now in his 70s, there had been a few changes!

As I wrote more of the book I realized that there was a perfect role for my fun-loving brother-in-law, Barry Metzler (Logan, Ohio, High School class of 1966 (LHS-1966)), so into the story he went. And, of course, I had to include my college roommate and buddy for 70-plus years, Larry Swartz (LHS-1952). Soon after that, five other friends from around the country were in my book as well.

A year later, when I started work on my second western novel, The Hunted Return, I was visiting my friend Bob Mock (LHS-1953). He had been my trumpet player in my Logan dance band, "The Canteeners," when we were in high school. Bob said that he wanted to be in one of my books. I told him his timing was good because I needed a strong Wells Fargo Agent in my story, and with his police and military work, he would be perfect for the role. And as it happened, Barry Metzler was back again, but this time married to my baby sister, Dina Metzler (LHS-1964). Jeff and Lisa Pickrell were there, too. Many students know Jeff because he has been a substitute teacher at various Logan, Ohio schools since the spring of 2009.

The Hunted Return sold well, and my friends who were mentioned in the book delighted in giving copies to family and friends and not telling them that they were in it. It turned out to be a wonderful surprise for the readers.

A year later I was back in Logan on my way to Montana to do research for my next western novel, Hunt for a Bride. Yes, Ohio is a bit out of my way when you live in California, but when you grow up in a small town like Logan, its spirit never leaves you, and you must return periodically to be revitalized. I was visiting with my dear friend Kay Cannon Kirsch (LHS-1953). Kay and I had grown up as next-door neighbors on North Street where I used to see her riding her horse Lady in the pasture behind her house. We often walked to school together or double dated. We had remained friends throughout the years. What I didn't realize was that Kay was already very sick because she hid it so well.

Kay had read my first two western novels and really enjoyed them and asked me if she could be in my next one. I explained that the book would be about a mail-order bride who would travel out west, marry, and become a teacher. She had to be strong and not some wimpy woman. I wanted this person to represent the women who helped settle the west.

Kay became very excited and told me, "But that's perfect. I moved out west, I'm tough, I love horses, and I was a teacher. I'm the one."

She did have me there. After graduating from Ohio State University, she married, and she and her husband moved their horses, Scotty dogs, and various other animals in a caravan of trucks, horse trailers, and cars out to a small ranch near Moorpark, California. Later her big horses turned into miniature horses, and she showed them in the Rose Bowl Parade.

Kay had two children, Andrea and Bill, and taught in a nearby high school where she was held in high esteem because of her exemplary teaching, and her ability to fill her classes with humor, hope, and enthusiasm. She was a teacher who cared.

After her husband died and she retired, Kay returned to Logan.

"Just understand," I explained to Kay, "this person must shoot bad guys, jump off trains, and be kidnapped."

"Yes!" she said with a big grin. "I can do that. That's me. I would be honored to represent the women pioneers of the Old West." Then she waved her finger at me in excitement and asked, "But can you put John in the book, too? I want to surprise him."

John Cannon (LHS-1952) was Kay's big brother. I shrugged and told her I would. I wasn't quite sure how, but I figured it would all work out. And, as it happened, he turned out to be the one who explained the mystery of the gold coin in the last chapter.

Then in March 2012, things took a darker turn when I received a phone call from Kay. She wanted me to write her eulogy. I explained to Kay that you only write a eulogy for someone after they had died, not while they were still around. But she was very insistent and told me she wanted to know what I was going to say and that way she could edit whatever I wrote. She always loved catching my writing mistakes, and we would always laugh at that. I agreed to write it. When I hung up, it was then that I realized how sick she was.

I wrote a first draft of the eulogy and concluded with a poem "On Saying Goodbye" from my mother's book of poetry about the Hocking Hills titled Gentle Hills. When I sent the eulogy to Kay, naturally, she found four typos and two factual mistakes, but otherwise she said she really liked it. And she was thrilled that I'd included my mom's poem. I was glad she liked the eulogy, but I realized that if I ever had to read it aloud, I wouldn't be able to do so. It took all my self-control to just write the eulogy without my keyboard being wet with tears.

This is when I decided to dedicate the book to her. While working on the dedication, I emailed two other classmates who were close friends of Kay — Marianne "Abernathy" Pusecker (LHS-1953) and Ann "Schultheis" Massey (LHS 1953) — for help and suggestions. Each wrote back caring and tender emails, but Ann wrote one line that I just had to add to my dedication. I asked her if she would mind, and she said she was happy she could help.

But now I was in a bind. I was working on two other books, Space Dream Two, the sequel to my science fiction novel, and a contemporary novel, Banishing the Darkness. Time was of the essence; I had no idea what Kay's timeframe was. I realized that I had to stop work on the other two novels and write Hunt for a Bride while she was still alive. Not only that, but I had to get copies to her as fast as I could write them, and living in California, that meant either snail-mail or email. I soon found out that she wasn't able to use her computer, so the only choice was Priority Mail.

That also necessitated that I do something I never do, sending her draft chapters as I wrote them. I never, and I mean NEVER, allow anyone to read my drafts until my wonderful editor, Joy Ann Fischer, has checked them. Joy understood my problem and began doing rapid edits on all my draft chapters.

Then in a July phone conversation with Kay, she told me it was impossible for her to read any more. She was constantly in and out of hospice, so I knew I couldn't delay even a moment. I had just completed the last three chapters of the book, and I couldn't accept the thought that she might leave us without knowing how it turned out. She just had to hear the ending of her story.

I was desperate. A backup plan was needed, and I knew just who to call. A fellow classmate in Columbus, Ohio, Jim "Gobey" Young (LHS-1953) had offered his help if I ever needed it, and I needed it now. I contacted him, and he was up to the task. I emailed him the last three chapters of the book, plus the dedication that Kay had never seen. Jim contacted yet another classmate, Larry McVey (LHS-1953), and together on July 27, 2012, they drove to Logan and read the remaining chapters to her. They told me later that Kay loved the dedication and asked them to read it to her a number of times. She seemed delighted that her big brother John and even her Aunt Sarah were in the last chapter of the story.

Two weeks later, Kay passed away on August 10, 2012. The dedication reads:

DEDICATED TO

Kay Cannon Kirsch

A dear and special friend,

a great role model, and a beautiful person,

who was truly a woman of the West


One week after the publication of Hunt for a Bride, I was accepted as a full member of Western Writers of America. Kay would have loved knowing she was partly responsible for that honor.


---